Length: 7 hours 37 minutes
Publisher: Maureen A. Miller
Sub-Genres: Romance, Suspense


From USA Today best-selling author Maureen A. Miller comes this romantic thriller that spans the Atlantic.




Sophie Diem's boss has skipped town, abandoning their counseling firm and taking her investment money with him. As she seeks to rebuild her professional career, she is distressed by the appearance of a stranger. The man keeps to the shadows, but he is definitely stalking her.




In an attempt to flee him, she accepts a job offer...in London. Surely, crossing the Atlantic would be enough to deter her shadow.




Glenn Barber is a desperate man. He sorely wants answers. The man who can supply them has gone missing, though. Now, all Glenn can do is go after the next best thing: the man's former employee, Sophie Diem.




Sophie is shocked to spot her shadow in London. What she learns is that Glenn, the shadow, is not a stalker but rather her only protection.




As her attraction to Glenn grows, together, they conspire to locate her former boss and stop him before he can harm others.







HALL WAYS REVIEW: Audio book review.
In Shadow, by Maureen A. Miller, wonderful layers of mystery stack up as the reader dives deeper into the story. As one mystery unfolds, another comes to light; questions get answered, but new ones arise to keep reader curiosity fully piqued.
But it's not just the mystery element that will keep readers reading (or reading with their ears, like me). Miller has all the right pieces for an engaging story: suspense, danger, romance, and even international travel. But for me, it is the characters that make the story work.
"Her age was just an exclamation point on a wasted decade."
It is a nice change of pace that the protagonist, Sophie, is in her early thirties. Like many women in that age range, she is grappling with the decisions she's made, where she is now, and what she's done with her life. She knows it's time for a change, and the presence of a stalker is the final straw for her to get out of Dodge. Sophie is complex, and readers may be quick to judge her actions regarding the stalker unless they put credence in the power of women's intuition and instinct. (I do.)
By providing dual points-of-view, Miller gives readers the other side of the story – Glenn is not a stalker, he's a desperate and broken man searching for answers. Hearing Glenn's thoughts and feelings completely switched how I felt about him, and his motives became understandable. Glenn's is an equally complex character, and his struggle to find himself worthy of love or happiness is palpable.
What's going on with Sophie and Glenn gets heavy, as is the building sexual tension between them, so the scenes including the characters of Amanda and Sam are excellent distractions. Amanda is the elegant and enigmatic boss of Blue-Link, Sophie's London-based employer. I feel like there's something more to her than we're allowed to see in Shadow, and honestly, this piece is a major driver for my wanting to read the next book in the series. On the opposite side of the spectrum is the character of Sam, who provides what Sophie -- and readers -- need: a lovable, quirky, comical, steadfast friend and protector. He's really Sophie's hero, too.
Odd as it may seem, bad guy Nathan really isn't much of a thing. He is a presence because he's wrecked so many lives, but there isn't much build-up and it's a bit anti-climactic when he makes his inevitable appearance. Sam is the scene-stealer there, but I fear he won't be a recurring character based on the ending of the story.
The ending does bring about a satisfying resolution, but I am not sure about the direction of the series and whether the same characters will continue to be featured. I can't see how Sophie's and Glenn's stories would have anything left beyond romance and the challenges of a new relationship, but there's something about the Blue-Link company…
There are some minor plot holes, a few places that behaviors/reactions didn't seem reasonable, and some bits of peculiar dialogue (including some F-bombs that seemed unnecessary and incongruous with the character). But overall, I recommend the audio book of Shadow as an entertaining escape into an intriguing story line. Listening to it was time well spent.
ABOUT THE NARRATION: This is the second book I've heard narrated by Brandy Skelly, and I am happy that her delivery was much more consistent and cleaner than last time. I listened to the book at regular speed, which is a rarity, but Skelly's pacing was just right. Her voicing of characters, male and female, was good and she made it easy to distinguish them. And while Sam's British accent worked, Amanda's was less authentic. Even so, by book's end, I had adapted and accepted it as her voice. Technically speaking, this was a much better recording than the last of Miller's books I listened to; however, there was a sizable glitch about an hour in that had a long stutter and then several seconds of silence.
Thank you to the author and Audiobookworm Promotions for providing me an audio download in exchange for my honest opinion – the only kind I give.
I received this audio book as part of my participation in a blog tour with Audiobookworm Promotions. The tour is being sponsored by Maureen A. Miller. The gifting of this audio book did not affect my opinion of it.

USA TODAY bestselling author, Maureen A. Miller worked in the software industry for fifteen years. She crawled around plant floors in a hard hat and safety glasses hooking up computers to behemoth manufacturing machines. The job required extensive travel. The best form of escapism during those lengthy airport layovers became writing.
Maureen's first novel, WIDOW'S TALE, earned her a Golden Heart nomination in Romantic Suspense. After that she became hooked to the genre. In fact, she was so hooked she is the founder of the JUST ROMANTIC SUSPENSE website.
Recently, Maureen branched out into the Young Adult Science Fiction market with the popular BEYOND Series. To her it was still Romantic Suspense...just on another planet!

About Brandy Skelly: I studied theatre in college and even participated in storytelling festivals when I was growing up. I'm a practicing attorney and love to participate in ACX projects to keep my creative side happy and fulfilled. I can perform fiction and non-fiction, in neutral-American or Southern-American accents.
I live in North Carolina with my husband, toddler, and pound puppy. I have a soft spot for romance, and I love a good laugh!

Giveaway: $25 Amazon Gift Card / Ends March 1, 2019

Feb. 21st:
Turning Another Page
The Book Junkie Reads . . .
Feb. 22nd:
The Bookworm Lodge
Dab of Darkness Audiobook Reviews
Feb. 23rd:
Jazzy Book Reviews
Feb. 24th:
T's Stuff
Feb. 25th:
Lilly's Book World
Feb. 26th:
Hall Ways Blog
Feb. 27th:
Notes from 'Round the Bend
The Book Addict's Reviews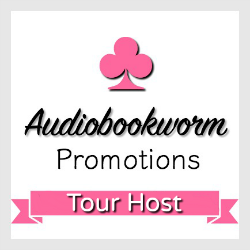 RELATED:
CLICK FOR HALL WAYS REVIEW