Detective Kay Hunter Series, Book 1

By Rachel Amplett


Narrator: Alison Campbell
Length: 8 hours 27 minutes
Publisher: Saxon Publishing
Sub-Genres: Mystery, Police Procedural


"If you want to see your daughter alive again, listen carefully."

When the body of a snatched schoolgirl is found in an abandoned biosciences building, the case is first treated as a kidnapping gone wrong.

But Detective Kay Hunter isn't convinced, especially when a man is found dead with the ransom money still in his possession.

When a second schoolgirl is taken, Kay's worst fears are realized.

With her career in jeopardy - desperate to conceal a disturbing secret, Kay's hunt for the killer becomes a race against time before he claims another life.

For the killer, the game has only just begun....

Scared to Death is the first book in a new crime thriller series featuring Kay Hunter - a detective with a hidden past and an uncertain future....

If you like the Kim Stone series by Angela Marsons, Peter Robinson's DCI Banks series and the Erika Foster series by Robert Bryndza, discover Rachel Amphlett's new detective novels today.

HALL WAYS REVIEW:
Audio book review. Smashing! As Scared to Death begins, readers are immediately set on the edge of their seats and immersed in the anxiety felt by the characters in the opening scenes. It isn't long before the horror of the crime comes to surface and the body count begins to rise. Take no detail for granted because in this fabulous police procedural, author Rachel Amphlett doesn't waste a word.
A few words about hearing the words… part of what makes Scared to Death so excellent as an audio book is that it is so very British – a novelty to this Texas girl. Though I am sure that the Brit factor shines through in the print version as well, there is nothing more entertaining to me than listening to the delightful accents of people from far away places. (I cannot get enough of hearing narrator Alison Campbell say "bastard" -- a term used frequently by many different characters. It delights me to no end; weird, I know.) It's not just the word choices, but it's the way the characters interact that makes the story so very British. The police and detectives are so polite! And nothing happens without steaming mugs of tea or coffee first! My kind of setting.
Politeness as it is, the crimes in Scared to Death are not for the faint of heart. The crimes and crime scenes are violent and disturbing and deal with sexual perversion. Detective Kay Hunter and the whole team of investigators are dealing with one sick baaaastard. (Side note: interestingly, the language in this book is mild, but as the series goes on, more profanity is sprinkled throughout the dialogue.) The good thing is that Amphlett doesn't get overly graphic in her writing; the details are factual, and the story is gritty but without unnecessary elaboration. There are several exceptionally creepy scenes that I could easily visualize (and which made my skin crawl).
Since Scared to Death is the first book in a series (the sixth is currently in production), readers are introduced to a bunch of characters who will become the core group of future stories. There are glimpses into the personal lives of a few – including main character Kay Hunter – and at times, it feels a little clunky. However, those glimpses provide the humanity and emotional elements that lift the story. Readers will appreciate that Amphlett avoids the tropes of many female detective mysteries. Kay's stable marriage and loving relationship with her husband provide a safe place for Kay – and readers – to escape the horrors of the outside world.
The narration by Alison Campbell is wonderfully done. She handles a huge cast of characters, male and female, giving each a unique voice. And while her voicing of Kay is perfection, she is particularly good in projecting the high creepy factor of character Eli – every time he speaks, readers will be uneasy. I did listen at 1.25x speed, which better matches how I'd read (and makes me less impatient).
Scared to Death
has a solid plot with just a few holes (possibly not holes but things I missed in reading with my ears) and a lot to keep the reader engaged. There are twists and turns and surprises, and even when we think we know the deal, we don't. Stunners continue to drop right down to the very end. There aren't really loose ends, but there are enough sub-plots brewing that I immediately downloaded the next book, Will to Live and started listening. I'm hooked!
Thank you to the author and Audiobookworm Promotions for providing an audio download in exchange for my honest opinion -- the only kind I give.

Before turning to writing, Rachel Amphlett played guitar in bands, worked as a TV and film extra, dabbled in radio as a presenter and freelance producer for the BBC, and worked in publishing as a sub-editor and editorial assistant.
She now wields a pen instead of a plectrum and writes crime fiction and spy novels, including the Dan Taylor espionage novels and the Detective Kay Hunter series.
Originally from the UK and currently based in Brisbane, Australia, Rachel cites her writing influences as Michael Connelly, Lee Child, and Robert Ludlum. She's also a huge fan of Peter James, Val McDermid, Robert Crais, Stuart MacBride, and many more.
She's a member of International Thriller Writers and the Crime Writers Association, with the Italian foreign rights for her debut novel, White Gold sold to Fanucci Editore's TIMECrime imprint, and the first four books in the Dan Taylor espionage series contracted to Germany's Luzifer Verlag.
Narrator Allison Cambell

Win a choice of signed paperback + set of coordinating bookmarks!
Runs March 29th-April 26th, 2018. Continental US Only.
The Detective Kay Hunter Series Giveaway: Signed Paperback & Bookmark Set

BOOK ONE:
Mar. 29th:
Dab of Darkness Audiobook Reviews
Jorie Loves A Story
Mar. 30th:
What Is That Book About
Buried Under Books
Hall Ways Blog
Mar. 31st:
Next Book Review
Jazzy Book Reviews
Turning Another Page
Apr. 1st:
AudioSpy
The Writing Train
Apr. 2nd:
Bound 4 Escape
2 Girls and A Book
Booktalk with Eileen
Apr. 3rd:
Lomeraniel
Apr. 4th:
The Book Addict's Reviews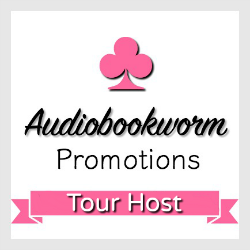 RELATED: