Author: Chris Patchell
Narrators: Lisa Stathoplos, Corey Gagne
Series: The Holt Foundation Stories, Book 1
Length: 14 hours 5 minutes
Publisher: Audible Studios
Released: Sep. 27, 2017
Genre: Suspense, Thriller

SCROLL DOWN FOR GIVEAWAY!




Marissa Rooney stands in her daughter's empty dorm room, a half-used vial of insulin clutched in her trembling hand. Brooke has been missing for days. Her roommate hasn't seen her since that night in the bar. And if Marissa has Brooke's insulin, it means that Brooke does not.




But Marissa isn't alone in her terror. A phantom from her past is lurking in the shadows, waiting in the night, and holding her family captive...in the dark.



Chris Patchell is the bestselling author of In the Dark, Dark Harvest, and the Indie Reader Discovery Award winning novel Deadly Lies. Having recently left her long-time career in tech to pursue her passion for writing full-time, Chris pens gritty suspense novels set in the Pacific Northwest, where she lives with her family and two neurotic dogs.

Lisa Stathoplos has been a professional actor working onstage, in film and commercial VO work for many years as well as narrating books and performing in Audiodramas for Audible.com and Hachette Audio. Most recently, Lisa played Nina Locke in Joe Hill and Gabriel Rodriguez' epic multiple Audie award-winning 13-hour audio drama of their wildly popular graphic novel LOCKE AND KEY produced by Pocket Universe Productions' AudioComics division and Finalrune Productions for Audible Studios.

Corey Gagne is an audiobook narrator, stage, and voice actor from Portland, Maine. Corey trained at Mountview Theater Conservatory (now Mountview Academy) in London, England, and has appeared on stage in London, New York, Philadelphia, Austin, and Portland. His work as an audiobook narrator includes Inci by Mike Resnick and Tina Gower, The Constable's Tale by Donald Smith, the Sin du Jour series by Matt Wallace, The Goblin Crown by Robert Hewitt Wolfe, The Twilight of the Gods Series by Christopher G. Nuttall, The Black Wolves of Boston by Wen Spencer, The Builders by Daniel Polanski, and Dark Harvest and In the Dark by Chris Patchell.

HALL WAYS REVIEW:
In the Dark (A Holt Foundation Story),
the first book in the series by Chris Patchell, is an exciting and engaging story to read with your ears. The premise of the primary mystery, though not entirely unique, has more than a few spins on it that make it a stand-out story.
For the audio book, listeners are treated to a dual narration team to add authenticity to the characters' genders. Both Lisa Stathoplos and Corey Gagne have even deliveries and do well with projecting a wide range of emotions.
It's a good thing, too, as there are A LOT of characters to keep up with, which is always a little harder with an audio book than reading print. But the teenagers sounded annoyingly teenager-ish, jerks sounded jerky, and creepy males sounded creepy. The distinct voices created by the narrators helped a lot.
There is significant character and world building in the first half, as readers are introduced to the key players who will likely return in the sequel(s). Surprisingly, the bad guy is revealed fairly early on; however, once readers learn the identity of the perp, there is still significant suspense and the story isn't so much about the WHOdunit but the why – and Patchett does a great job revealing that aspect. The pace picks-up significantly in the second half of the story, and the urgency and tension are ratcheted-up a few notches. The story put me on edge, which made me uncharacteristically nervous when there was an unexpected knock on my door while listening. (I didn't answer!)
In the Dark
contains gritty and disturbing scenes, with detail just short of being graphic put descriptive enough to stick with the reader. I could have done without the profanity, particularly the liberal dropping of the F-bombs across multiple characters (always a bummer when those hit and there are others in listening range). It is realistic with some, adding to the abrasiveness of their personalities, but for others it seemed unnecessary and/or odd. The author does ask for some suspension of disbelief with certain plot elements, but overall, it works, and the story ended strong enough that I want to read (or read with my ears) the next book,
Dark Harvest.
Happily, there is a generous sample of it at the end of
In the Dark,
so I kept on listening and am now fully hooked-in for book two.
Thank you to Audiobookworm Promotions and the author for providing me a free audio download in exchange for my honest opinion – the only kind I give.

TWO WINNERS WIN AMAZON ECHO DOTS!
Runs Feb. 11th-25th
⎮
Open internationally (via Amazon US or UK)
The Holt Foundation Stories Giveaway: Amazon Echo Dot

In the Dark, Book 1
Feb. 11th:
Next Book Review
Jazzy Book Reviews
Turning Another Page
Feb. 12th:
Hall Ways Blog
What Is That Book About
Feb. 13th:
T's Stuff
Dab of Darkness Audiobook Reviews
Feb. 14th:
Lilly's Book World
La libreria di Beppe
2 Girls and A Book
Feb. 15th:
Wall-to-Wall Books
Notes from 'Round the Bend
Feb. 16th:
alistenersslant
The Book Addict's Reviews
Feb. 17th:
Twisted Book Junkie
Lomeraniel
Cali Book Reviews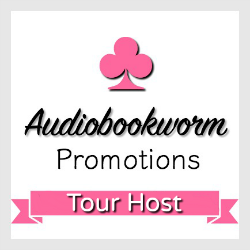 RELATED: