Detective Kay Hunter Series, Book 2

By Rachel Amplett


Narrator: Alison Campbell
Length: 7 hours 15 minutes
Publisher: Saxon Publishing
Sub-Genres: Mystery, Police Procedural


Reputation is everything.

When a packed commuter train runs over a body on a stretch of track known to locals as "Suicide Mile", it soon transpires that the man was a victim of a calculated murder.

As the investigation evolves and a pattern of murders is uncovered, Detective Sergeant Kay Hunter realizes the railway's recent reputation may be the work of a brutal serial killer.

With a backlog of cold cases to investigate and attempting to uncover who is behind a professional vendetta against her, Kay must keep one step ahead of both the killer and her own adversaries.

When a second murder takes place within a week of the first, she realizes the killer's timetable has changed, and she's running out of time to stop him....

Will to Live is the second book in a new crime thriller series featuring Kay Hunter - a detective with a hidden past and an uncertain future....

Before turning to writing, Rachel Amphlett played guitar in bands, worked as a TV and film extra, dabbled in radio as a presenter and freelance producer for the BBC, and worked in publishing as a sub-editor and editorial assistant.
She now wields a pen instead of a plectrum and writes crime fiction and spy novels, including the Dan Taylor espionage novels and the Detective Kay Hunter series.
Originally from the UK and currently based in Brisbane, Australia, Rachel cites her writing influences as Michael Connelly, Lee Child, and Robert Ludlum. She's also a huge fan of Peter James, Val McDermid, Robert Crais, Stuart MacBride, and many more.
She's a member of International Thriller Writers and the Crime Writers Association, with the Italian foreign rights for her debut novel, White Gold sold to Fanucci Editore's TIMECrime imprint, and the first four books in the Dan Taylor espionage series contracted to Germany's Luzifer Verlag.
Narrator Alison Campbell
HALL WAYS REVIEW:

4.5 Stars. Audio Book Review. This is the second book in the Detective Kay Hunter series, and I gobbled it up (with my ears) and listened to it straight through in one day. While it is fine as a standalone book, I do think it's beneficial to start with book one, Scared to Death, to get a little backstory and familiarize yourself with the relationships.
As was the case with book one, from the very start of Will to Live, author Rachel Amphlett provides a set-up that makes readers antsy and feel that something dreadful is coming. But guess what! This dreadful event does not unfold as the reader expects and is the first of many twists and turns in this engaging police procedural.
Once it is established there is a killer on the loose, the familiar group of detectives from book one come together to work together – or against each other – to catch the murderer before he kills again. The killer is eerily inserted into the story with a shift to his point of view. This is super creepy and adds to the readers' anxiety about what's coming and whether Kay and her team will stop him before he succeeds in his plans.
Amidst the office politics and personal vendettas, Kay continues to quietly dig around for details of some suspicious activities surrounding her professional standards investigation. This side story is building momentum in the background, and it's one of the elements that will keep me coming back for another installment.
What also keeps me coming back for more of this book (the sixth is now in the works) is that it's delightfully British, with most everyone being oh-so-polite, enjoying lots of steamy cups of coffee and tea, and this killer, like all others, is repeatedly called a real baaaaahstard. (My new favorite insult to hurl though mine's with a badly voiced British accent (BriTexan accent? Texish?) Side note: the profanity level goes up a (mild) notch in this one, which caught my attention for some reason.
Speaking of British accents, narrator Alison Campbell returns to narrate, and she again does a brilliant job with all the voices. Sharp sounded a little different in this one – more serious and intimidating, but it suits him and fits with the pressures he's under. Again, Campbell does an outstanding creepy-psycho-killer voice – my favorite of them all.
Since I read the book with my ears, I can't comment to whether the book is well edited; I suspect it is. Amphlett clearly uses a formula around which she crafts her stories, but for readers who enjoy that familiarity, these books are perfect. There are a few things Kay does in this story that aren't logical and don't seem to fit with her character; however, it does keep her from being completely predictable.
I highly recommend Will to Live for fans who enjoy a quick detective story with unique killers with grisly but not overly graphic descriptions of the methodology or crime scenes. Upon finishing this book, I immediately downloaded book three, One to Watch. This series has me hooked.
Thank you to the author and Audobookworm Promotions for providing me a download in exchange for my honest opinion – the only kind I give.

Win a choice of signed paperback + set of coordinating bookmarks!
Runs March 29th-April 26th, 2018. Continental US Only.
The Detective Kay Hunter Series Giveaway: Signed Paperback & Bookmark Set

BOOK 2
Apr. 5th:
Dab of Darkness Audiobook Reviews
Hall Ways Blog
Apr. 6th:
Jazzy Book Reviews
What Is That Book About
Apr. 7th:
Next Book Review
Turning Another Page
Apr. 8th:
Buried Under Books
Jorie Loves A Story
Apr. 9th:
Bound 4 Escape
AudioSpy
The Writing Train
Apr. 10th:
Lomeraniel
2 Girls and A Book
Apr. 11th:
The Book Addict's Reviews
Booktalk with Eileen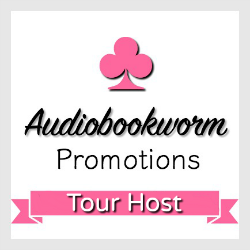 RELATED: